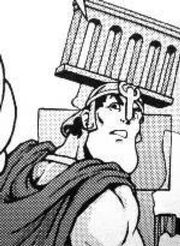 Mighty Agrippa, Roman God of the Aqueduct is a character in The Tick.
He is the arch-enemy with Thrakkorzog. Mighty Agrippa first meets The Tick in New York City and was familiar with Barry's history.
In the animated series, Mighty Agrippa is voiced by Jess Harnell. In "The Tick vs. The Tick," The Tick is introduced to him, Jet Valkyrie, and Fish Boy: Misplaced Prince of Atlantis by Big Shot
In "Heroes," Mighty Agrippa is seen in the theme song to the titular episode's theme song having apprehending The Evil Midnight Bomber What Bombs at Midnight.
Powers and abilities
Edit
He has super-human strength, flight, and control of water.